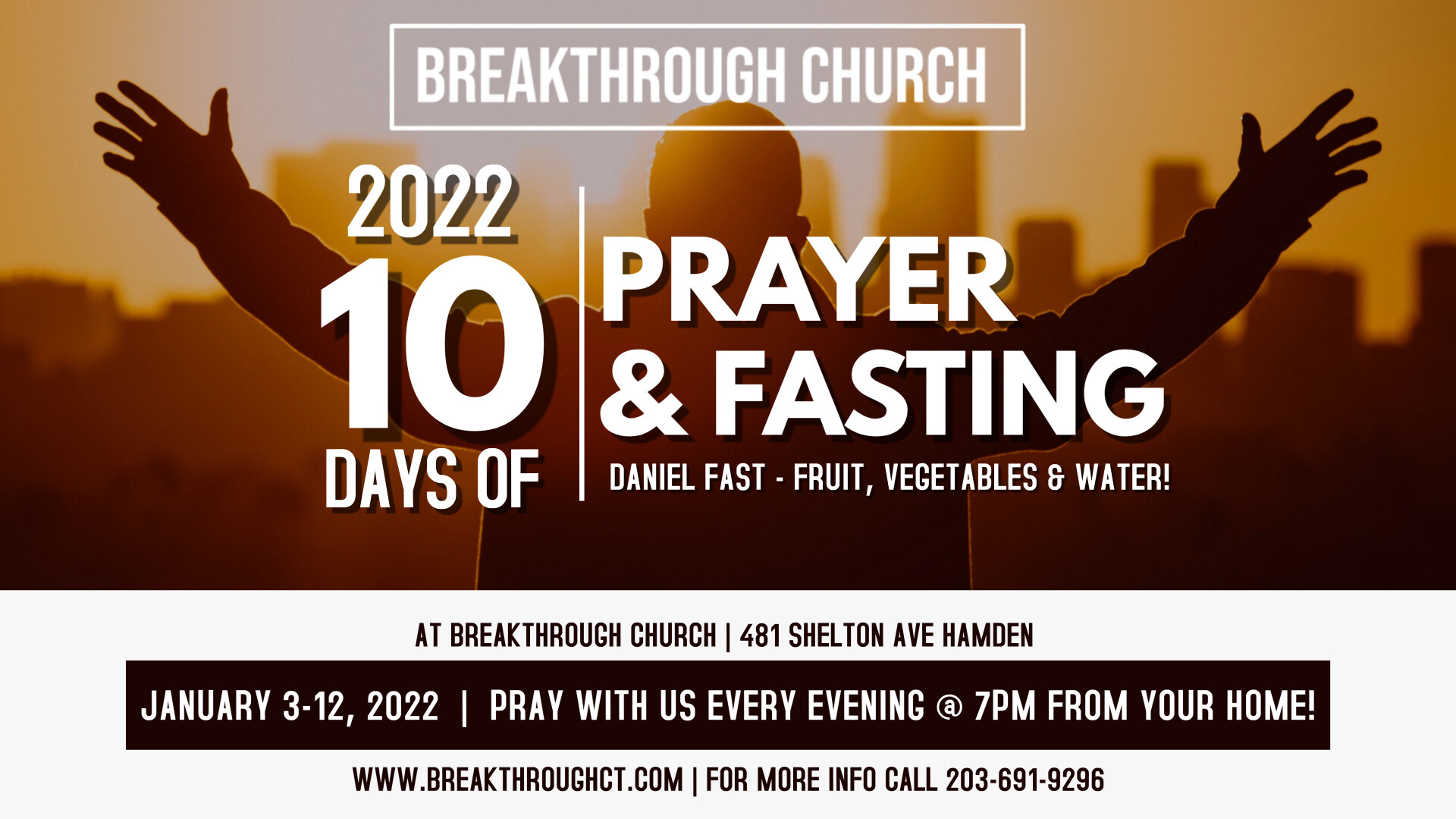 10 Days of Fasting & Praying! Monday January 3-12, 2021
A Message about Coronavirus from Pastor Joseph Carr, Jr.
The health and safety of our church members are a top priority, and our thoughts and prayers are with those impacted by the novel Coronavirus (COVID-19) global pandemic. Since it first surfaced, our teams have been monitoring the situation closely and taking every precaution to keep our church members and our communities safe.
With the effects of the outbreak being felt more each day, we wanted to reach out and share what we have been doing so you can continue to serve, worship and grow at Breakthrough Church with confidence. We are carefully monitoring the recommendations of governmental health agencies, such as the Center for Disease Control (CDC) and local health organizations, and we have further elevated our stringent cleaning and sanitation protocol. Here are some examples of what we are doing:
Praying and believing that God will keep our members and our families healed, safe and protected. Walking by faith and not by sight and standing on God's Word that He is our present help in the time of trouble!
This weekend we will be disinfecting high-touch hard surfaces throughout the church including our Breakthrough Kids area, such as door handles, counters, handrails, chairs, floors, instruments, microphones and faucets.
Increasing the deployment of anti-bacterial hand sanitizers within our church. Hand sanitizers will be available at the welcome desk, bathrooms and kids' area.
Educating our staff on COVID-19 symptoms as well as preventative measures. We're encouraging all staff and members to take common-sense health precautions recommended by the Centers for Disease Control and Prevention (CDC), such as frequent hand washing or using alcohol-based hand sanitizer with at least 60 percent alcohol to stay healthy.
Our Welcome Team and staff will limit hugs, close contact and handshakes as a safety precaution. Please don't take it personal, we want to keep everyone safe and virus free.
We are cancelling all extra curriculum activities and events until further notice. We will still have Sunday Morning Worship starting at 11:00AM. We average 160-200 people on Sundays, this attendance range fits safely into the CDC crowd limitations.
Here are somethings you can do:
Recommending that those who are not feeling well to stay home to prevent the spread of germs. (Anyone not able to make it to service will be giving Sunday's message for free)
Elderly members are encouraged to stay home if possible. The CDC says older people are more at risk to the coronavirus and should take the necessary precautions.
If you decide to stay home this weekend, we do encourage you to still keep your financial commitment to Breakthrough Church by using one of the many ways to give. Online giving at breakthroughct.com and click the online giving tab; text-to-give: text BTCCT + Amount to 732-56; and CASHAPP ($BTCCT). Thank you in advance for you faithful giving to Breakthrough Church.
Pray, keep the faith and speak His Word!
All of these safeguards and precautions are made with you in mind. They are based on recommendations from local, state, and federal health officials whose experts are working tirelessly to safeguard our health. We will continue to follow guidance from health agencies and government officials to maintain a safe and engaging worship experience for everyone. Thank you for your support and commitment to Breakthrough Church!
Joseph Carr, Jr.
Senior Pastor
---
https://www.cdc.gov/coronavirus/2019-ncov/community/organizations/index.html